Don't change your password, change to URQUi
The original "host agnostic"  authentication solution
GDPR Compliant
Why URQUi?
The internet and virtual communication has become an everyday aspect of most peoples lives, and as a result exposed people to privacy intrusion.
What it means?
URQUi has created a win win framework for both individuals and organizations.
For individuals,  they now control their own security, and can function in the virtual world with greater confidence.
For organizations,  no longer have to worry about being cyber attacked to obtain confidential information, as well as their liability to hacking has been greatly diminished, which leads to a better and more fruitful relationship with their clients.
View our 90 second Explainer Video
URQUi is based on ephemeral numbers, that are used as keys to identify individuals.
There are two related components to the framework. One that is used by an individual, and the second that is used by an organization(s).
The individual component  is an application that functions on any mobile or digital device.  The  purpose of this application is to create keys, locally on the device, no cellular or Wi-Fi connection is required.
A new set of numbers(URQUi key)  are created every minute(ephemeral) as indicated by the countdown clock shown below the URQUi key.
For organizations, their responsibility is to collect the URQUi keys from individuals with whom they have already created a relationship, in order to perform identify verification.  The organization, does not require any additional software or hardware to provide URQUi security, they simply just need to communicate with one of the many URQUi servers, that will perform the verification.
URQUi  is host agnostic (generic); once installed on an individuals device, it can work with any combination of government hosts, school hosts, non-profit hosts  or commercial hosts.
At no time is any individuals personal information collected, transmitted or saved.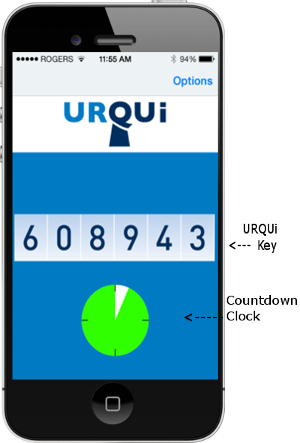 URQUi is a proud ambassador of Privacy by Design
Privacy by Design 7 Foundational Principles
PROACTIVE NOT REACTIVE! PREVENTIVE NOT REMEDIAL Privacy by Design comes before the fact, not after.
PRIVACY IS THE DEFAULT SETTING No action required on the part of the individual to maintain their privacy.
 PRIVACY IS EMBEDDED INTO DESIGN.
FULL FUNCTIONALITY No trade-offs are made. No false dichotomies; privacy or security?
END TO END SECURITY FULL LIFECYCLE PROTECTION.
VISIBILITY & TRANSPARENCY KEEP IT OPEN.
RESPECT FOR USER PRIVACY KEEP IT USER CENTRIC.
Dr. Ann Cavoukian, Ph.D. Information and Privacy Commisioner of Ontario, Canada.
https://www.ipc.on.ca/wp-content/uploads/Resources/7foundationalprinciples.pdf
URQUi Design Principles
URQUi must not require the user to disclose or transmit confidential information.
URQUi must not keep records of mobile users.URQUi must be free for all users/clients.
URQUi must not require the user to keep ANYTHING* secret.
URQUi must not collect user data. Mobile user data not collected or retained, cannot be exploited.
URQUi must be free for all users/clients.
URQUi must work with multiple servers.
URQUi must not require users to purchase anything.
URQUi provides security and privacy with anonymity.
Privacy is the responsibility of individuals and organizations.
URQUi can help individuals take control of their privacy.